Guest Blog: Recent Live Action Films Influences on the Parks
When Disney scores big at the box office, you know you are about to see some additions to your favorite Disney parks. The parks are constantly changing, incorporating more than just your favorite adorable animated characters. Several successful Disney franchises are all about action. These changes can be for better or worse, depending on your point of view, but either way, they are inevitable. Here are four live action films/franchises that I think are causing the biggest changes to the parks.
Pirates of the Caribbean
The Pirates of the Caribbean ride has been a staple attraction at Disney parks since the opening of the original Disneyland in 1967. It remained relatively unchanged until the live-action adaptation starring Johnny Depp as Captain Jack Sparrow was a surprise hit in 2003. To capitalize on the massive success of the film, parts of the ride were changed rather drastically to incorporate elements from the it and its subsequent sequels. Captain Jack now appears several times along the way, and the dialog of other pirates have been changed in order to make his character the focus of the ride's story line. These changes were seen as controversial among Disney park purists, but the popularity of the franchise and the Sparrow character has kept them firmly in place.
But of course, the ride is not the only aspect of the park that has been affected by the 'Pirates' movies. New attractions like the Pirates League Salon, and A Pirate's Adventure: Treasures of the Seven Seas, have found their way into Adventureland at the Magic Kingdom in Orlando over the past few years.  In Shanghai Disneyland a new experience focused around Jack Sparrow was created.   But is it too much? With the declining quality, and diminishing returns of the film series, how much longer will the popularity of pirates progress?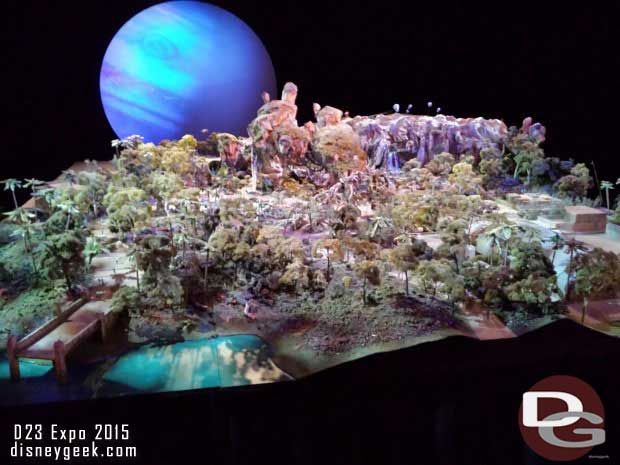 Avatar
This one I am not so sure of… In September of 2011 Disney announced the building a new area of their already enormous Animal Kingdom themepark called Pandora – The World of Avatar. This will be 12 acres with two attractions based on James Cameron's 2009 smash hit movie, Avatar. The new area is said to utilize state of the art animatronics and holographic technology, to reproduce the bioluminescent plant life and floating mountains seen in the film.
Avatar broke all kinds of box-office records when it was released, and currently ranks as the highest grossing film of all time. It's visual effects were stunning, and it was a massive achievement in filmmaking. But… does anyone still care? Unlike the next franchise on this list, Avatar has had little to no cultural impact. There are no spin off cartoons, few toys, no comic books, no little kids dressing up as the Na'vi for Halloween, no real fandom. We are talking about a movie that came out over 7 years ago, and is not getting a sequel for another 2 years. With an estimated $500 million being spent to build this Pandora park expansion, Disney better hope that the public's interest in Avatar reignites before the new area opens later this year.
Star Wars: The Force Awakens
Star Wars has always had a presence at Disneyland since 1987 followed quickly by attractions in Tokyo, Orlando and Parisbut Disney's acquisition of Lucasfilm in 2012, combined with the record-breaking success of Star Wars Episode VII: The Force Awakens in 2015, has caused the parks to go full throttle into a galaxy far-far away.
Just prior to the film's release the classic Star Tours ride was updated to include an adventure based on the film. The popular guest experience Jedi Training: Trials of the Temple has also seen the replacement of Darth Maul, with the Force Awakens character Kylo Ren. Meet and greets with Star Wars characters used to only happen on Star Wars Weekends at Disney's Hollywood Studios, now they are all over the place, as well as mini Star Wars museums, Star Wars merchandise and even the Star Wars Galactic Spectacular Fireworks show.
However, the biggest change to Hollywood Studios and Disneyland are yet to come with the 14-acre Star Wars themed land additions. Although few details have emerged, this is clearly the most highly anticipated Star Wars addition to the parks. And although this plan was announced prior to the release of The Force Awakens, I doubt they would be still so enthusiastic about it had the film not been as well received or reviewed. If Force Awakens had been more on par with Episodes I-III, you can bet the plans for Star Wars Land would have been largely scaled back.
Marvel
Disney purchased Marvel Entertainment in 2009. Since then, the Marvel Cinematic Universe has only grown in popularity. Character meet and greets and other exhibits can be found in Disney's California Adventure, but there has not been much announced in terms of development of new Marvel related rides and attractions. Currently at Disney California Adventure the Tower Of Terror is being replaced with Guardians Of The Galaxy – Mission: Breakout! attraction opening later this year, and The Iron Man Experience has just recently opened at Hong Kong Disneyland. But considering we are talking about the highest grossing movie franchise of all time here, that does not seem like much. Due to a pre-existing contract Marvel had with Universal Orlando Disney's options for Walt Disney World are limited.
To be a lover of Disney parks is to expect constant new additions and changes. Whether you are dealing with a franchise that has plenty to celebrate, or one you are more skeptical of, keep in mind that Disney parks have a pretty impressive track record of showing you all the action and thrills of your favorite film adventures. Regardless of the fandoms you belong to, you know you can always trust Disney to always give you the ride of your life.