A Wrinkle in Time – Teri's Take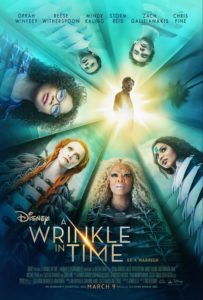 Disney "A Wrinkle in Time" debuts in theaters March 9th, bringing the beloved book by Madeleine L'Engle to life on the movie screen and it does not disappoint.
A much-loved book has been thoughtfully brought to life with an all-star cast including: Oprah Winfrey, Reese Witherspoon, Mindy Kaling, Storm Reid, Zach Galifianakis, and Chris Pine; just to name a few.
Mr. Murry (Chris Pine) along with his wife Mrs. Murry (Gugu Mbatha-Raw) world-renowned physicists believe that you can jump thorough time and space by wrinkling it. In the process of trying to prove this theory Mr. Murry disappears.
Four years after her father's disappearance, Meg (Storm Reid) a regular middle-school student yet troubled girl; is dealing with her father's mysterious disappearance. Supporting her are her mother and brother Charles Wallace (Deric McCabe) an extremely gifted, highly intelligent little boy.
The adventure really begins when Charles Wallace, Meg and Calvin (Levi Miller) a fellow classmate of Meg's meet Mrs. Whatsit (Reese Witherspoon), Mrs. Who (Mindy Kaling), and Mrs. Which (Oprah Winfrey).  The trio heard Meg's cry for help in finding her father and arrive to help.  They explain to the kids what has happened to Meg & Charles Wallace's father and what is going on around them.
The journey that the three kids embark on forces them to explore who they really are and all they can become.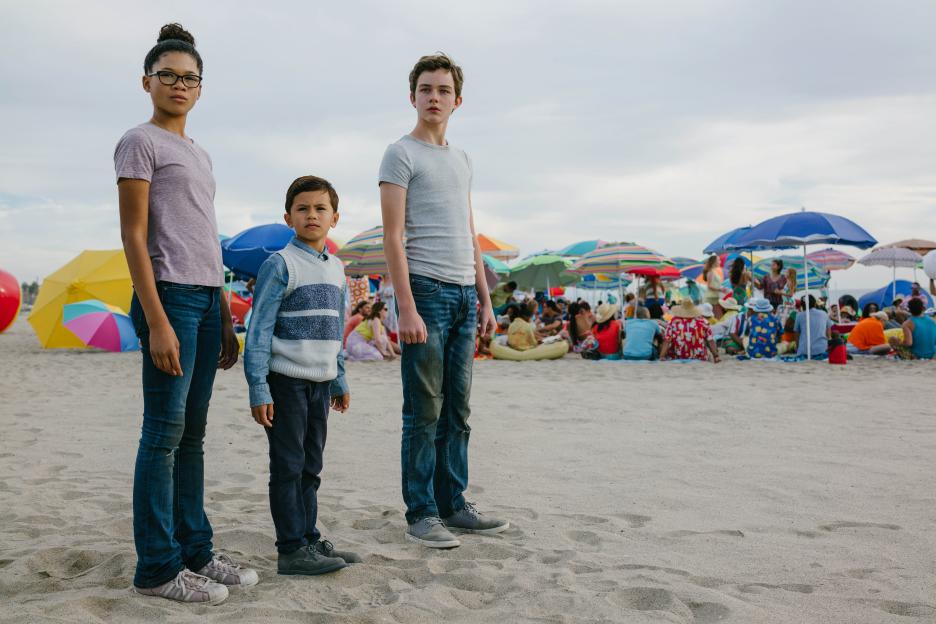 I did not read the book in school when growing up, so I pick one up and read it before seeing the film to get a better idea of the story line. I am happy that I did.   The film follows the book for the most part but glosses over some points and reading the book first gave me better insight to some references made in the movie.  I thought the movie could have done a better job explaining some points.
My Likes: How much the film did follow the book.  You were transported into the worlds of the book and it truly expanded the images the book created in your head.  I appreciated how the overall message of the film is positive.  The message that the director, Ava DuVernay, is sending out to audiences through this film, to be a warrior and find the light (happiness, positivity, kindness) and get rid of the darkness (negativity, anger, jealousy).   I found this to be a timely and uplifting message.   The amazing all-star cast in the film: Oprah Winfrey, Reese Witherspoon, Mindy Kaling, Zach Galifianakis, Chris Pine, Gugu Mbatha-Raw, Bellamy Young, Michael Peńa, and Rowan Blanchard. Yet with all this star power the three primary leads that carry the film are newcomers: Storm Reid, Deric McCabe, and Levi Miller.
My Dislikes: If I had not read the book there are several parts that did not stand well on their own in the film.  They felt like they needed more explanation, which the book does.  For example Deric McCabe's character Charles Wallace needed a little more development as did Levi Miller's character Calvin.   In the film they are not explored or set up as well as the book.  Diving deeper into who they were to give you a better understanding on why they were doing the things that they did. Which in return would have helped with the understanding of some parts of the film.   I think this may be important because as I spoke with others there were a surprising number who had not read the book and even some who did who did not remember the details after all these years.   Oprah Winfrey's character Mrs. Which was a little too much CGI in the beginning of the film and it took away from that moment that was important to the story. I found Mindy Kaling's was a perfect casting for Mrs. Who, however was disappointed at how they did not enrich her character with more and inspiring quotes.
Overall this is an inspiring film that kids will love whether they have read the book or not.  But I recommend reading or re-reading the book first to fully enjoy it.