DVD Review: Disney Channel Original Movie "Zombies"
Available on DVD Tuesday, April 24 is Disney's "Zombies," an original movie that premiered on Disney Channel in February. The movie stars Milo Manheim as a zombie named Zed, and Meg Donnelly as a human named Addison. It takes place in the town of Seabrook where, 50 years before the events of the movie, an accident at a power plant led to half the town being infected as zombies. Wristbands worn by all zombies allows them to live normal lives, however they are still segregated from non-infected humans, living in Zombietown, attending separate schools, wearing government issued clothes and obeying a curfew. When Seabrook High School is forced to integrate zombies into the facility, Addison meets Zed and they develop a friendship, despite push back from their friends and families.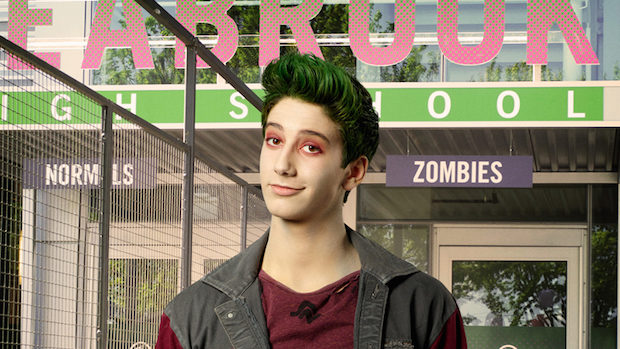 This movie is a fun watch, and has none of the usual gross factor of other zombie movies and television shows. The intro of the movie is done in a faux '80s comic book style that is a cool way to start the story. As most Disney Channel movies, it is a musical, and the songs throughout are catchy and paired with some elaborate dance numbers. The supporting cast of the movie is entertaining, especially Zed's friends, Kylee Russell's Eliza and James Godfrey's Bonzo.
"Zombies" is a great watch for kids (especially around ages 10-14). In addition to some good music and solid teen-acting, the movie also has a very positive message for young people and reflects social inequities from the past and present in a way that kids can understand and appreciate.
The movie has been available through streaming since its air date on Disney Channel, but the DVD would be worth getting, especially if you have kids who love the movie. The DVD has a lot of extras: a blooper reel, deleted scenes, music videos (including a lyric video for karaoke inclined kids), a choreography instruction, trailers and audition footage. The deleted scenes are pretty minimal, but kids who love the movie will want the music videos and dance instruction.
---
Full Bonus Material Listing:
Zombie Blooper Reel (DVD Exclusive)  – Laugh out loud at the Cast of ZOMBIES in this compilation of the funniest bloopers and outtakes from the making of the film.  TRT:  3:53
The Zombie Survival Guide To High School (DVD Exclusive) – This piece uses a visual motif of a Zombie Survival Guide, with styled infographics and hosted by the talent.  We go down the list of some of the most important survival tips for Zombies and humans on how to get along and make the best of high school.  TRT:  2:24
Dance Tutorial – Join Meg Donnelly (Addison), Kylee Russell (Eliza) and ZOMBIES Choreographer, Christopher Scott, as they show you how to dance along to the 'BAMM" Music Video. TRT:  3:38
Deleted Scene #1 (DVD Exclusive)  – It's a Cheer-tastrope  TRT:  :57
Deleted Scene #2 (DVD Exclusive) – New Jacket, New Name TRT:  1:09
Audition Tapes (DVD Exclusive)
Milo Manheim Audition TRT: 1:16
Meg Donnelly Audition TRT :57
Music Video – "BAMM" TRT 3:39
Lyric Video – "BAMM"  TRT 3:23
Trailer #1  TRT:  2:20
Trailer #2   TRT 1:50
Feature Run Time:
Approx. 94 minutes (excluding bonus)
Aspect Ratio:
1.78:1 Widescreen (Enhanced for 16×9 Televisions)
Audio:
English 5.1 Dolby Digital, French & Spanish 2.0 Dolby Digital
Subtitles:
English SDH, French & Spanish
Closed Captions:
English
---