Incredibles 2 on Home Video – Jason's 1st Impressions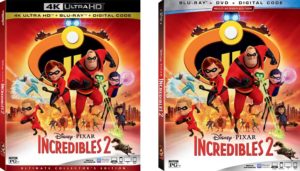 Disney/Pixar's the Incredibles 2 is available on home video in various formats.  If you missed the film in theaters earlier this summer, it picks up where the original 2004 film leaves off.  In this installment Helen takes the lead in a campaign to bring Supers back and battle a new villain, Screenslaver, which leaves Bob handle the family which includes  learning about Jack Jack's emerging powers.    For more on the film here is Maggie's Review of the theatrical release as well as some quotes from the press conference.
This initial home video release features a wide variety of bonus features to choose from ranging from traditional featurettes and deleted scenes to the theatrical short Bao and a new mini-movie called Auntie Edna.   For a complete list of bonus features as well as some technical specs here is the press release.
I really enjoyed the amount of bonus material available with this offering.  The variety seemed to ensure a little of something for just about anyone that enjoys bonus features.   Some highlights:
Strong Coffee: A Lesson in Animation with Brad Bird – This nearly 20 minute piece was my favorite feature of the release. It highlights Brad Bird's career and some of his animation philosophies.   Listening to his story of coming to Disney and his mini tour of the Animation building was interesting.   His trip down memory lane of when he first arrived there and was able to work with some of Walt's Nine Old Men was great to hear and see.   Being a fly on the wall during some of his sessions with the animators of Incredibles 2 was great too.
Scene Break Down – Elastic Girl & Racoon Fight – These two 10 minute pieces take a round table/group discussion look at a couple of scenes involving several members of the creative team from the film including animators, story, director, and producer. I find the stories of how these films are made almost as entertaining as the film themselves.   Hearing first hand from those involved in the film and the details they point out is  fascinating to me.
In addition to the theatrical short Bao there is a six minute piece looking at the making of Bao. If you enjoyed the short you will find this background and deeper dive into Bao worthwhile and you may learn a little more about the inspiration and what the short captures.
Mini Movie – Auntie Edna – This mini movie is a 5 minute  look at what happened when Edna watched Jack Jack. You got some glimpses and hints in the film but this explores that a little more.  I thought this was a fun addition for the release.
10 Deleted Scenes with introduction/commentary – I am not a big deleted scenes fan, but I do enjoy listening to the reasons why a different direction was chosen or a cut made so I found these worth watching.
Full film audio commentary by animators who worked on Incredibles 2 which gives a different perspective than most audio commentaries that are done by the film's directors.
The above list only scratches the surface on the number of features on this release.  Also included are theme songs and featurettes for the Supers as well as Commercials for toys.  There are also featurettes on the Deavors and Wannabes plus several other aspects of the film.
This is a great release of a good film and if you enjoy the Incredibles or Pixar films you will most likely enjoy many of the bonus features included in this offering.  The volume and variety of bonus features makes this a very appealing release to add to your library.  You will not be disappointed adding Incredibles 2 to your collection.
---