"Maleficent: Mistress of Evil" Press Conference
"Maleficent: Mistress of Evil" hits theaters Friday, Oct. 18. Before the release of the follow up to 2014's "Maleficent," the cast and creative team behind the film gathered in Beverly Hills to discuss the expansion of the universe, the crafting of a villain and the feeling of letting a child grow up.
On the panel was Angelina Jolie, Michelle Pfeiffer, Elle Fanning, Chiwetel Ejiofor, Ed Skrein, Harris Dickinson, Sam Riley and director Joachim Ronning.
Joachim Ronning and Chiwetel Ejiofor kicked off the discussion, elaborating on the vision behind expanding the universe of the film to include more of the land of the fae and further kingdoms.
Ronning: "It's always a fine line in terms of what to keep from this beloved universe because you do want to keep a lot of that, and it's important to the fans. But at the same time for me as a filmmaker it's important to make something original and take Maleficent to the next level. But I do think that a huge part of the success of the first film was that it had such a strong emotional core, and I think that was the most important thing for me to continue telling that story, the story about Maleficent and Aurora."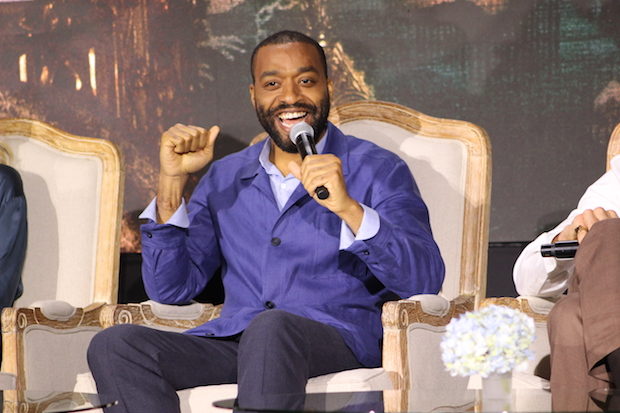 Ejifor: "We look through some the design and the feel of it, and the design process was quite clever in terms of look. But it was stunning to see it all put together, and beyond my imagination, certainly."
Michelle Pfeiffer and Elle Fanning spoke on the different types of power displayed by women in the film.
Pfeiffer: "I think that's one of the interesting things about this film is, yes it is a fairy tale, but at the same time it's a very unusual fairy tale, it's what I loved about the first film. What I loved was that it played in this gray area and talked about good versus evil, and all of us have a little bit of everything in us. I think in terms of strength, and how that manifests itself, it's different in everyone. One of the things we loved about Aurora's character is that in many ways she is ultimately the strongest and the wisest. My character is really brilliant and diabolical, but I wouldn't consider her terribly wise."
Fanning: "In the original fairy tale, she's granted with these gifts when she's a baby, and I think Aurora symbolizes the good and the kindness in the world, and the acceptance…. In the second film, what's so great is that she is a young woman now, she is stronger, she has much more conviction in herself, she's learning to gain her independence. I love the family theme in the movie, because it's very realistic to real life and growing up, separating and leaving the nest."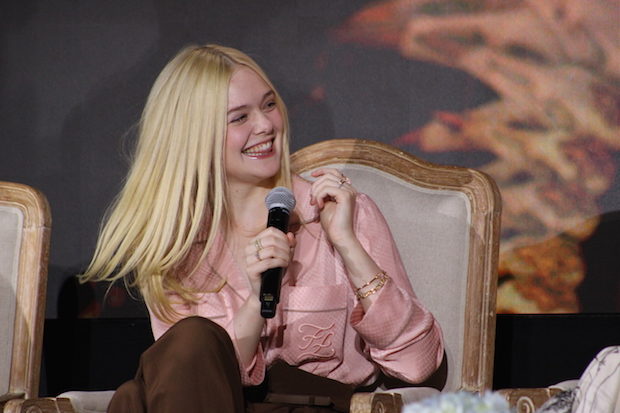 Finally, Angelina Jolie spoke on the role of family in the film and how the definition of family built in the first film is tested in "Mistress of Evil."
Jolie: "When Aurora and Maleficent were first brought together and became a family, they weren't really expecting it. Maleficent was harmed in her life, and she lost herself and lost her ability to be soft and feel love…. But [Aurora and Maleficent] are different creatures in the film, there are metaphors in the film, not to be heavy about it, but always I think a good film for young people has these messages. We get pulled apart, people tell us "Because you're not the same, you're not family, because you're not exactly like her you're not her mother." And that certainly strikes a chord with me."