Book Review: Disney Princess – Tea Parties
Disney Princess Tea Parties by Sarah Walker Caron
Ever wanted to throw an elegant tea party themed with your favorite fairytale? Disney Princess Tea Parties is a charming cookbook that features over 50 kid-friendly and easy-to-follow recipes inspired by the Disney Princesses.
Use this beautiful book as your guide to host the perfect royal tea party while channeling your favorite Disney Princess characters and their stories to create tasty goodies to share with the ones you love. Be sure to pick up your dinglehoppers and magic wands and whip up some delicious treats – from delicious Scottish crumpets with raspberry jam inspired by Merida to an absolutely refreshing Rapunzel Fruit Tea for a summer's day. There are also recipes for petite sandwiches, soups, parfaits, wraps, dumplings, savory appetizers, cakes, muffins, drinks, and other light refreshments.
This cookbook is packed with expert tips on cooking, breathtaking color photography, and super easy-to-follow instructions to encourage chefs of all ages and skill levels to make their own Disney magic.
My favorite thing to do with any cookbook is to start flipping through all the pages and look at all the inspirational photos of the food. This cookbook definitely did not disappoint! As I turned each page, I was thoroughly impressed with the beautiful and vibrant colors of each Disney Princess-inspired treat. Each mouthwatering recipe will encourage you to have fun in the kitchen, making delicious treats with your family and friends.
The book is divided into five chapters:
Little Bites
Savory Bakes
Sweet Bakes
Tiny Sandwiches and Soups
Tea Party Sips
In the introduction of the cookbook, there is a step by step guide on how to plan the perfect Disney Princess Tea Party, which are:
Set a date, time, and place
Plan your menu
Decorate and set the table
Dress up
Plan at least one activity
I really like how easy the steps for party planning were and how they broke it down and gave suggestions and tips. This sets up how the rest of the book is – full of easy to follow directions and inspiration on every page.
At the top of each recipe in this book, there is a short story that connects the Disney Princess (or one of the characters from their stories) with the delicacy you are about to make. This is short story can be used to help tie the theme together at your tea party. Each recipe also has a list of ingredients to the left, the amount of treats you will make, and the instructions on the middle right. Some of the recipes in the book are short, meaning they are easy and quick to prepare. There are also some recipes that are much longer which require more time and preparation.
For the beginner chefs, I would suggest making these recipes:
Flora, Fauna, and Merryweather Fruit Wands
Moana Toasted Coconut-Banana Toast
Be Our Guest Ham-and-Butter Bites
Moana Coconut-Mango Coolers
These are the perfect recipes to start off with as there are a few ingredients, short preparation time, yet a very yummy end result.
My daughters and I loved flipping through the book and selecting the recipes we want to make together by looking at all the mouthwatering photos of food. I really enjoy all the quality time I get to spend with them, learning new things and eating some yummy food together.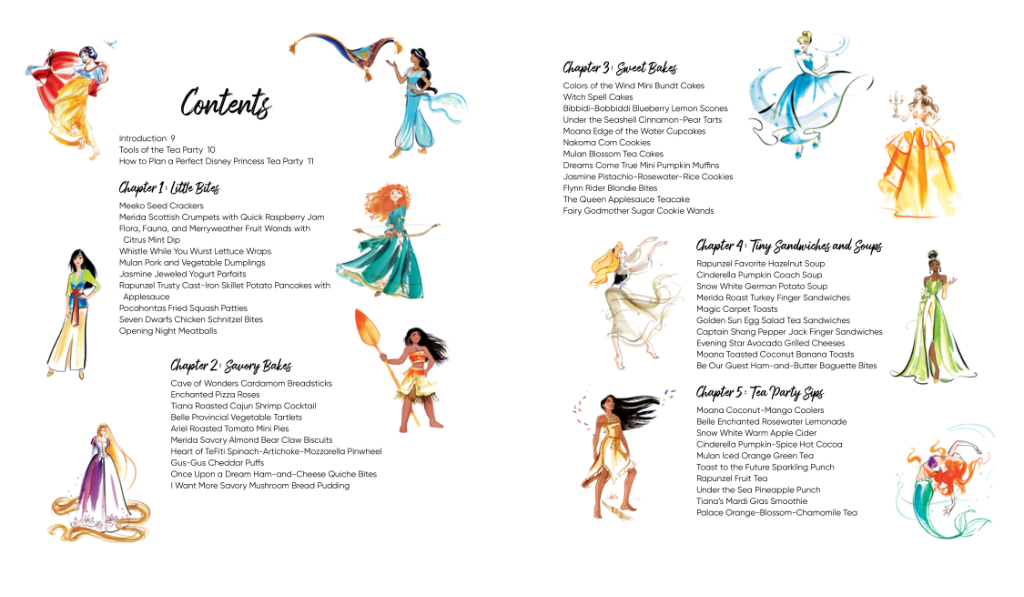 Here are all the recipes available in the book.

Simple and easy recipe, but also fun and inspiring.

Beautiful, colorful, and mouthwatering photos of the recipes.
Other great cookbooks in this series that can turn any ordinary day into a magical one:
---

*This post contains affiliate links, as an Amazon Associate the site earns from qualifying purchases.