Preview: Disney/Pixar's "Lightyear"
Disney/Pixar's next film, Lighyear, will arrive in theaters nationwide on June 17th.  We are all familiar with the original Toy Story film.  In it Andy received a Buzz Lightyear action figure.  But have you ever wondered what this toy was based on?  In Toy Story 2 we learned about Woody history and the Woody's Roundup TV show.  Now its time to learn about where Buzz Lightyear is from.  Lightyear is the movie that inspired the action figure Andy received.   Angus MacLane, the director and screenwriter for Lightyear, described the movie as "Andy's Star Wars.  A sci-fi epic designed to inspire a new generation."   Lightyear is Pixar's first sci-fi action-adventure movie.
I was invited to join an early preview presentation and watch about 30 minutes of the film.    The preview included most of Act I so I was able to get a sense of the story set-up but did not really dig into its core or spoiler type moments.  I will hold off commenting on the film until I can view the full work.
There was a 90 minute Zoom session with several members of the Lightyear team where they shared some of their inspiration for the film, a few details about the creation of it and then took questions from the media.   The primary presentation on the call was done by Angus MacLane.  Angus has been an animator and then director at Pixar since 1997.  Also on the call were  Galyn Susman (Producer), Greg Peltz (Sets Art Director), Fran Kalal (Tailoring and Simulation Supervisor), Jane Yen (Visual Effects Supervisor) and Jeremy Lasky (Director of Photography).
Agnus spent some time talking about the origins of the film and his thesis is at his core Buzz Lightyear is at odds with his surroundings "Buzz always has a disagreement over the nature of reality.  In Toy Story, Buzz thinks he's a space ranger.  Woody disagrees.  Toy Story 2, Buzz thinks he's the Buzz Lightyear.  The other Buzz Lightyear disagrees."   Another key concept he wanted to explore is time.  How nostalgia for the past while rapidly jumping into the future is how we live.
In Lightyear Buzz is trying to achieve hyperspeed to complete his mission.  For him his mission lasts a few minutes but for those left at the base it is years.  With each attempt at his mission time jumps head quickly.   This progresses the story through decades rather quickly and alters Buzz's sense of reality.  The world he knows/knew changes with each attempt and return to the base.
Fran spent some time talking about their research trip to NASA for this film where they learned about spacesuits, the international space station and other aspect of space travel including how important buttons and dials are.  Buzz's spacesuits evolved for each mission with the passing of time and new technology.
Like any space movie Lightyear includes robots. Lots of robots. Some you may know like Zurg but many others are new.  One robot that is sure to be a hit with moviegoers will be Socks the Cat. Socks is Buzz's robotic companion.
Angus described Socks as the cute thing  "What is the cute thing?  Well, you know, the cute thing.  The-the-the protagonist's loyal sidekick.  The thing that makes you go, "Oh."  Cute thing is not new.  It's been around th-throughout the history of cinema."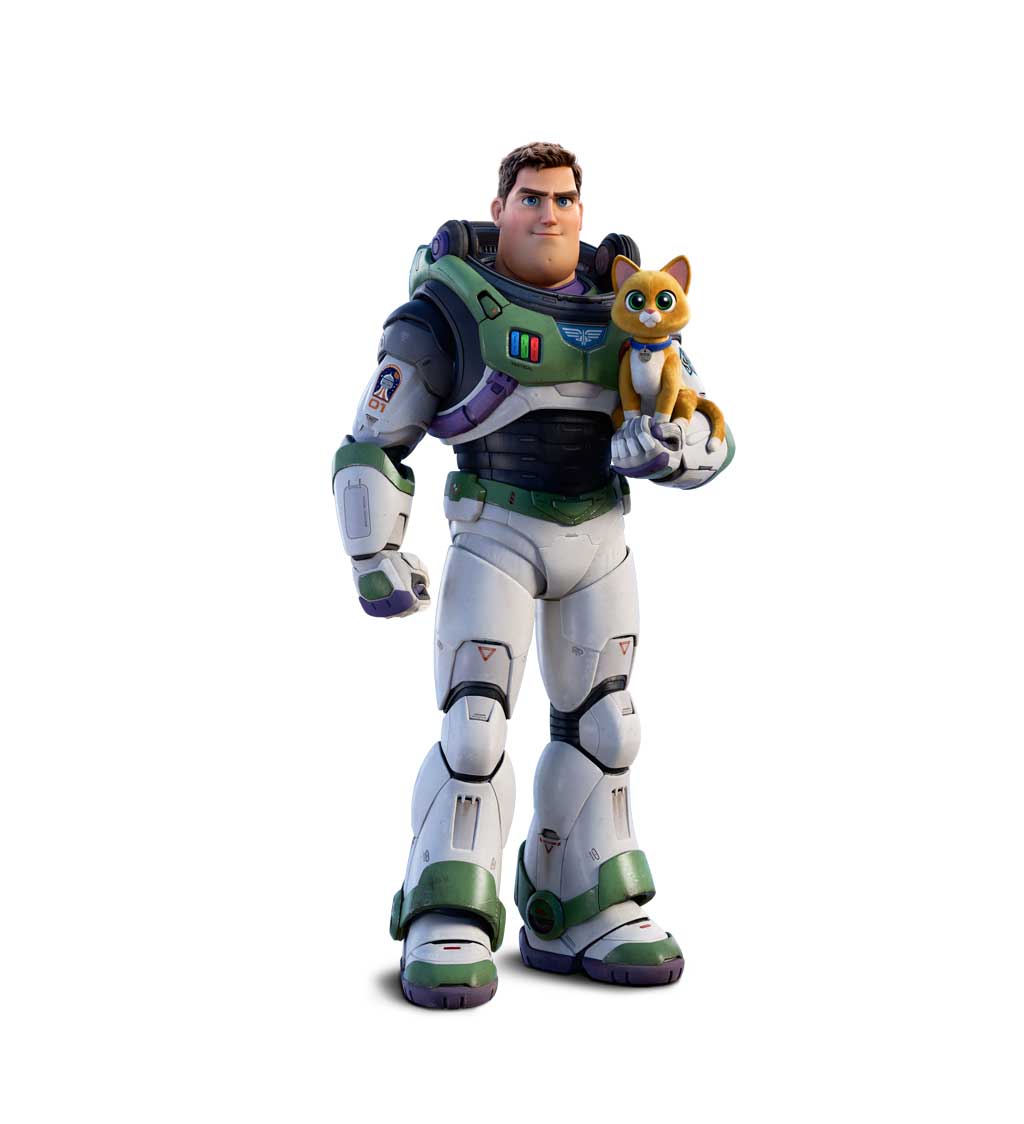 Jane Yen, the visual effects supervisor overseeing the technical strategy, development, and execution of Lightyear spoke about the look of the film.  This look was described as "A stylization that not only was more graphic and less hyper-realistic, but a stylization that felt exceptionally cohesive in every element of our world, both in the way it was animated and in the way it looked."
A progression for a sequence called "First Mission" was talked through.  Here are some images and captions of the process to take a look at what is involved in creating a single sequence.  To give a sense of scale this sequence had 2,472 storyboards created.
Lightyear will be in theaters June 17th.