"The Bob's Burgers Movie" – Maggie's Review
In theaters now is "The Bob's Burgers Movie," a murder- mystery musical-comedy special that brings the characters of Ocean Avenue to the big screen after 12 seasons on television.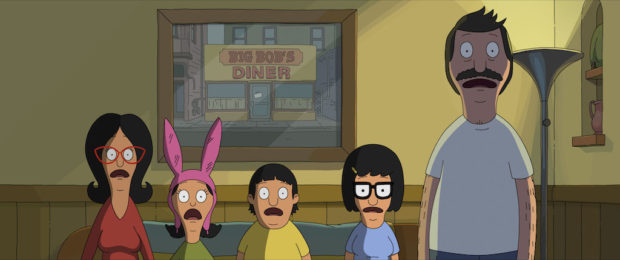 "The Bob's Burgers Movie" finds the Belcher family in familiar territory: the restaurant in dire financial straits while all of the forces of the universe seem to conspire against them. After a sink hole leads to the discovery of a body in front of their restaurant, the Belcher children–Tina (Dan Mintz), Gene (Eugene Mirman) and Louise (Kristen Schaal)–must investigate to save the family business. Meanwhile, Bob (H. John Benjamin) and Linda (John Roberts) venture onto the boardwalk in search of higher profits, but find trouble from a rickety cart and vengeful carnies.
"The Bob's Burgers Movie" works primarily because it does not stray too far from the show. "Bob's Burgers" is so uniquely weird and gross, while also being wholesome and heartfelt that any big swings could jeopardize the things that make the characters great.
On this challenge of bringing a 12 season show to the big screen, director Loren Bouchard said: "We had a specific problem from the beginning, which is how do you tell a story that doesn't break the show? A movie is an exciting event in which characters are transformed, their lives are forever changed. But we couldn't change our characters' lives so significantly that you can't pick up the next day with them going back to work and be this little struggling restaurant.We really liked genre-jumping, so it was going to be our mash-up of those things with comedy in there and action-adventure in there, too. We've come too far, and we've spent too long being a character driven show, to switch to being a story-driven movie."
The film stays true to the animation style of its television origin."We felt a little like an underdog championing an old 4 form, but 2D has a lot to offer," Bouchard said. "In my opinion it's the most beautiful form of animation. You can feel the artist's hand in the line and enjoy the colors."
As a longtime fan of the show, I really enjoyed "The Bob's Burgers Movie," mostly because it did just feel like a really long, really good episode of the show. The film wisely keeps the run time to less than two hours, and keeps an episodic structure of having an A, B and C plot. The film is full of cameos from the most beloved characters from the shoe including Teddy (Larry Murphy), Jimmy Pesto Jr., Mr. Fischoeder (Kevin Kline) and Felix Fischoeder (Zach Galifianakis). Since the show does rely on familiar jokes, cameos and characterizations, it will probably be a very weird watch for someone who doesn't know the show, but could also be a good entry point into a show already 12 seasons into its run.
"The Bob's Burgers Movie" is in theaters now.