Dino Ranch DinoSOAR Event
Season 2 of Dino Ranch is in full swing and there are new dinosaur partners that will be flying onto screens during the DinoSOAR event airing on Disney Jr. on August 26th at 1:30 EST/PST! In this special event, the young ranchers will team up with new flying partners at the Dinoport to learn to fly dino rescue missions so they can soar into all kinds of adventures and put their skills to the test!
Below are the two special episodes you can look forward to seeing during the special event:
Dino-SOAR!
The Dino Ranchers attend the Dino Port's Flyer and Rescue training school, learning to fly new pterosaurs and operate their rescue vehicles. However, the arrival of a gigantic flying menace quickly puts their skills to the test when they have to respond to a real rescue. Meet new characters like Twister, Cloud, and Thunderbolt! Will what they've learned during their first lesson be enough to save the day? ​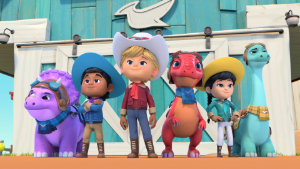 The Flyer and Rescue Squad
The Dino Ranchers have only just begun to learn how to rescue fly with their new pterosaur partners, when they're faced with a real dino-mergency: Tara's pterodactyl Wilbur has an egg that needs to be taken to the Dino Ranch Hatchery. But when Stormwing's arrival causes trouble for the Dino Port, the fledgling Flyer and Rescue Squad take to the sky to complete their first important mission.​
Be sure to catch this special event with the kids this Friday!