Disney Animation: Immersive Experience
At a press conference a few days ago, Walt Disney Animation Studios announced a new collaboration with Lighthouse Immersive Studios that marries leading edge technology with original Disney animated films to create a state-of-the-art traveling exhibit that totally immerses the visitor in every way imaginable.
The new collab, called Disney Animation: Immersive Experience, will debut in Toronto, Canada, in mid-December, with a nine-city U.S. launch starting in Cleveland, Ohio, in mid-January 2023. Cities throughout the U.S. and then worldwide will follow.
"This is a first-of-its-kind collaboration," Clark Spencer, president, Walt Disney Animation Studios, said of the new project. Spencer,  a two-time Academy Award®-winner (for Disney's "Encanto" and  "Zootopia") added that he can't wait to release the experience to "surprise and delight audiences around the world."
If you've heard the name Lighthouse Immersive Studios before, it's probably in relationship to the company's ground-breaking art experience "Immersive Van Gogh," which took the still paintings of the artist and brought them to life with animation. According to Lighthouse Immersive founder Corey Ross, the new collaboration will take Disney's already beautifully animated films and allow viewers to experience them in a completely new way.
"We wanted to find a way to take it to the next level," Ross explained, "to turn it up to 11."
To guide the experience to that next level, they've enlisted the talents of some real heavy-hitters. There's Oscar-nominated (for the short "Get A Horse!") Dorothy McKim, Special Projects Producer, spearheading the project for Disney Animation, along with the Creative Legacy team of Walt Disney Animation Studios. Mexico City-based Cocolab, a leader in immersive experiences like the multi-sensory "Immersive Frida Kahlo" exhibit, is also involved with the project.
Lighthouse Immersive's Global Creative Director David Korins, who's a Tony Award®-nominee and Emmy Award® winner, is developing never-before-seen interactive lobby elements that guests can enjoy before or after entering the gallery.
Finally, the creative team for the project is led by producer J. Miles Dale, who won the "best film" Oscar in 2018 for the movie "The Shape of Water."
"We are so excited to be able to tell these stories in a new medium," Dale said. "Walt Disney from his earliest days was one of the leading innovators in animation, and Disney has always been on the leading edge of animation. It is a privilege to work side by side with the Creative Legacy Team on this project."
"We can now showcase the work of the animators in an immersive but unprecedented way," Dale went on. "This will give audiences a behind-the-scenes look at how the magic was created. It will be entertaining, but also educational — kind of like a Disney ride, if you will."
So how exactly will the Disney Animation Immersive Experience actually work? Korins, whose credits include more than 20 Broadway shows including "Hamilton," explained it like this.
"The experience will start from the moment the guest gets their ticket," he said. "It will be a completely cohesive experience from the time they are 'on-boarded'. They will get a wristband [a piece of wearable technology that will interact with the exhibit itself] and become part of the show. They will walk through a series of portals that will take them on a visual journey, from the earliest sketches from the hands of the animators. There will be tons of interactive elements, photo ops, and a sonic experience, too, as we take them literally from the script to the screen, and show all the different parts of the animation process."
"We usually make films for viewers sitting passively in a theater," Dale added. "This is not that. You'll be standing on the ocean with Moana, or on a moving field of lava — OK, minor spoilers," he laughed.
Cocolab's Cesar Moheno Plá echoed the idea that the ultimate goal was to "envelop people and transport the audience to new worlds and realities."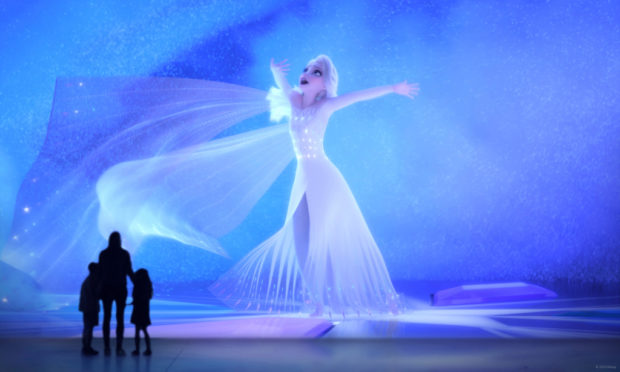 "This will be on a scale and level of detail we haven't seen before," he said. "It is blowing up basically every square inch into an enveloping environment, so that we feel we are inside a movie, entirely surrounded — like being inside a glacier with Elsa, or part of the Festival of Lights with Rapunzel… You'll be able to really engage as active participants."
As you can probably tell by now, lots of Disney movies will be included in this experience — about 60, from the early favorites like "Snow White", "Pinocchio", "Bambi" and "Fantasia," all the way up to contemporary classics like "Frozen" and "Encanto." As explained by Dale, scenes from these movies have been woven into a new film, which lasts about 47 minutes.
"But this is not just a 'jukebox musical' of favorite Disney clips," Dale noted. "It is a movie made out of the movies, and it has all the trademark Disney values and themes, like friendship and coming of age."
The new film, along with other activities in the gallery, will take guests an hour to an hour-and-a-half to fully experience. And how much will this all cost? That detail hasn't been released yet, nor have the exact dates for the traveling exhibit's opening or subsequent tour.
What we do know for sure, though, is that the Disney Animation Immersive Experience will debut at the Lighthouse ArtSpace Toronto in December 2022, and will subsequently be seen in Cleveland, Nashville, Detroit, Denver, Boston, San Antonio, Las Vegas, Minneapolis and Columbus in the first four months of 2023. Additional cities are currently being scheduled throughout the U.S., with Tokyo and Tel Aviv set to be the first stops outside of North America.
"Walt Disney was a pioneer in animation and storytelling," Spencer concluded. "We are stewards of what he started and are always looking for new ways to continue his legacy… This new immersive experience tells the stories from "Snow White" to "Encanto" in a way that I never could have imagined… it's incredibly exciting."
If you want to learn more about the Disney Animation Immersive Experience, visit the website at disneyimmersive.com where you can also sign up to receive news about tour dates and ticket sales.
Want to take a sneak peek at the new Immersive Experience? Check out the trailer below.