Review: Strange World Home Video Release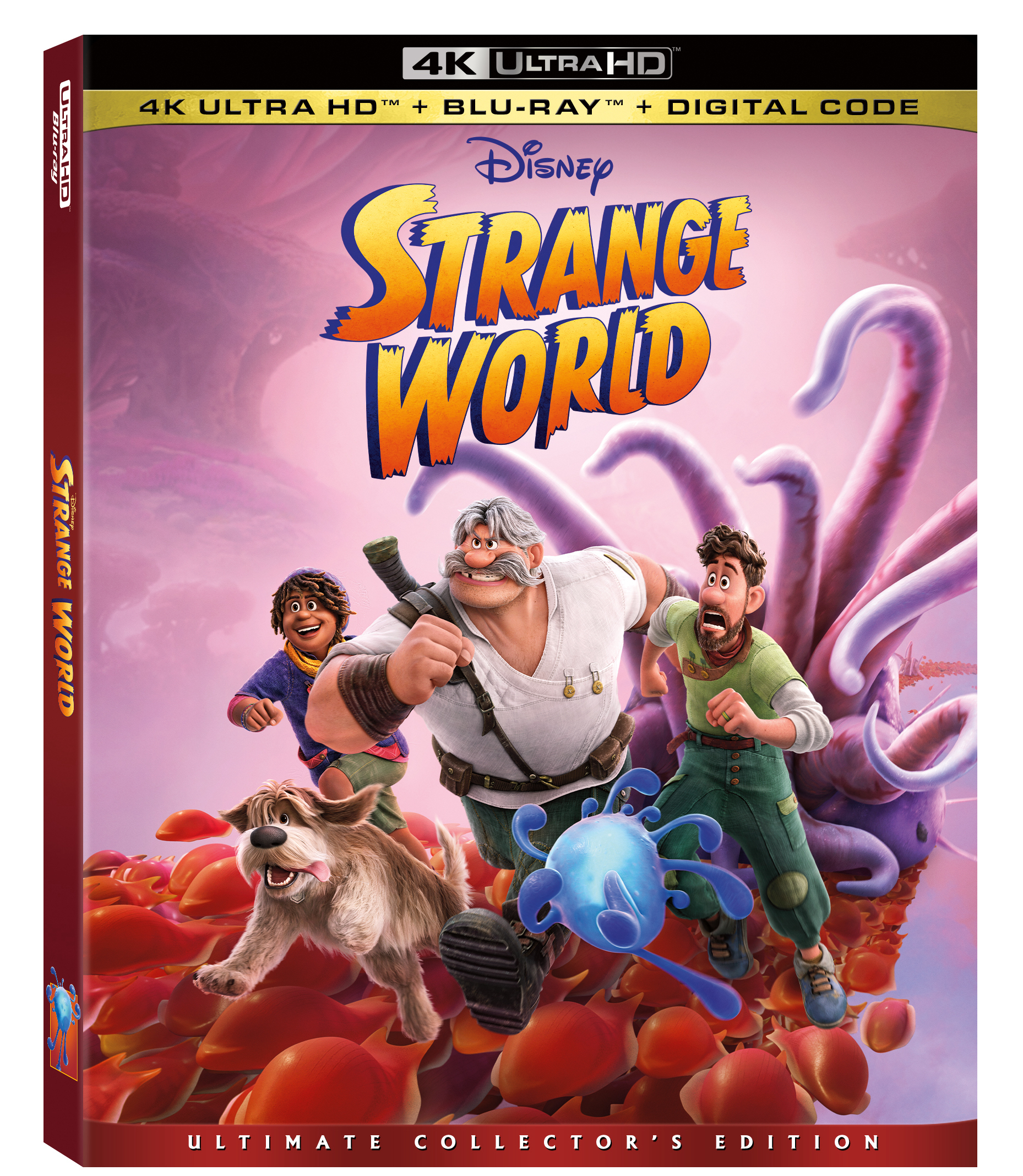 Strange World is now available in various disc formats and digitally.  Walt Disney Animation Studio's 61st feature film takes you on an adventure with the Clade family.  This three generation family must navigate through uncharted territory and deal with a variety of creatures along the way.   This action/adventure film was released in theaters in November 2022.   For more on the film here is Maggie's Review.
This home video release includes several formats, Blu-ray, 4K, DVD & Digital.  I was sent the Blu-ray/DVD/Digital combination pack to review.   For technical specifications and options here is the press release announcing the home video options.
This initial home video release of Strange World includes just over an  hour of bonus features.  The selection is what you would expect for a film with a look behind the scenes, some details, fun facts, out takes and deleted scenes.
Overview of the bonus features:
Anatomy of a Scene: Creating A Strange World (23:30) –
Clocking in at over 20 minutes this is traditional featurette takes a look at the entire animation process from concept to final product for a big chase sequence in the film.   I always enjoy seeing more about how films are created and this feature delivers on that.
The Hidden Secrets of Strange World (5:24) –
A look at many of the hidden references, some cut characters and origins of some of the names in the film.    Plus some statistics on the film.. for example there are 1,542 shots and 954 of those involved effects.
Strange Science (13:43)  –
A look at some of the science behind the environments and creatures you will see in Strange World.
Creature Feature (6:14) – A more in depth look at the creature that inhabit Strange World
Outtakes (2:03) – See some outtakes from the recording sessions and the cast having some fun.
Deleted Scenes (11:40) – Four deleted scenes with an introduction from David Derrick, the head of story on Strange World.  All are in storyboard form.
I thought the variety of topics covered was a solid offering.    The Anatomy of a Scenes featurette I found the most engaging.  Even though the Animation Process has been showcased a number of times over the years for other films I still find it interesting and enjoy seeing it applied and explored, in this case for a single scene.  I am not sure why but the Strange Science featurette just did not engage me,  I am still unable to put my finger on it.      I would have liked to have seen something on the cast, they are referenced and are part of the featurettes but for animated films I always like to see something about the cast.     I also appreciated that the deleted scenes include some remarks with them.
Strange World is a solid initial home video release for the film.   The bonus features are interesting and do not feel too short.  I would always  like more but that is me.  If you enjoy learning more about the  Disney Animated films it is worth considering adding this to your library for the bonus features.     The film itself is available on  Disney+ but as of this time there are no bonus features available, just a trailer.
---
*This post contains affiliate links, as an Amazon Associate the site earns from qualifying purchases.