An "Under the Sea" Kind of Day @ Disneyland with Daynah
Growing up, "The Little Mermaid" was absolutely one of my favorite Disney movies. I loved everything about it — the animation, the colors, the characters, and especially, the music! With the new live action movie out, I was very excited to disneybound as Ariel at the Parks this weekend. Just like Ariel, I have collected various dinglehoppers and thingamabobs over the years, so I was able to put together a fun outfit for the day.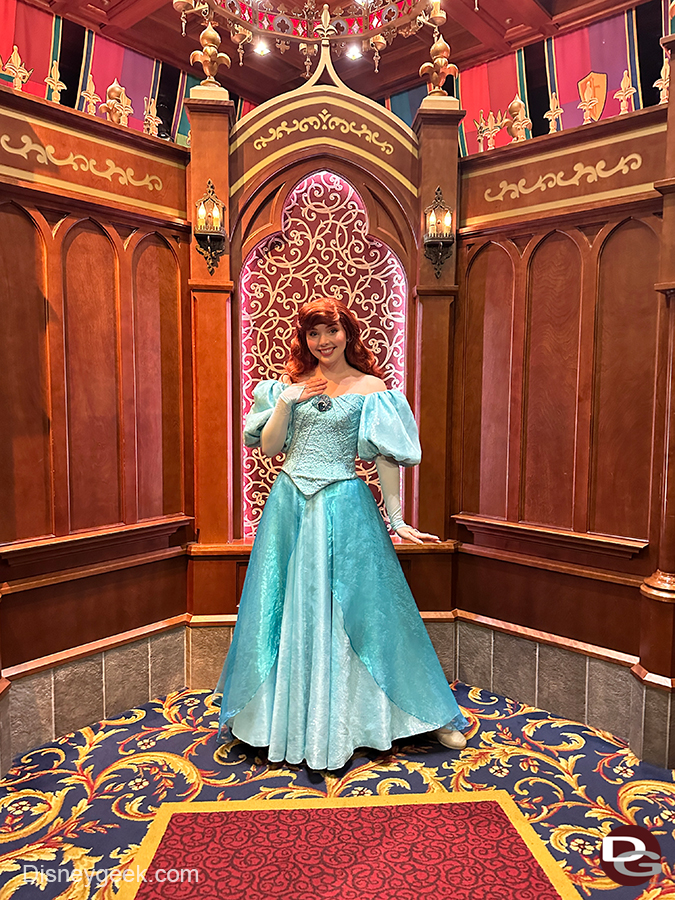 I started my day by entering Disneyland and who did you think I saw greeting guests at the front of the park? That's right, the original Ariel. Unfortunately, they already closed off the meet-and-greet line for her, so I made my way down Main Street toward Fantasy Faire in hopes to find her there. I got in line for the Royal Hall of the Fantasy Faire and waited less than 15 minutes to see three surprise Princesses. First up was Cinderella, who was absolutely sweet. She warned us to not stay out past midnight. Next was the one and only Ariel! We had a lovely conversation about dinglehoppers and the sea and I could not be happier. Lastly, I met the Queen of Arendelle herself, Elsa! It has been years since I have been in the Royal Hall. If you are looking for Disney Princesses, I highly recommend stopping by. You never know who will be there, but you are guaranteed to meet three of them, and there is usually another Princess standing outside of the Royal Hall as well.
I had a late lunch and then stopped by Fantasyland to watch the 3:30pm showing of Magic Happens. It is one of my favorite parades! The music is just so energetic and I recently learned that the talented Todrick arranged the music for it. Ariel is not in this parade, but you do get to see more princesses like Moana, Cinderella, Aurora, and Anna and Elsa!
Once the parade ended, I skipped over to the promenade near the "It's a small world" attraction and got in line to meet the new live-action Ariel. The line moved very quickly and I got the opportunity to meet her in about 20 minutes or so.
The photo op with live-action Ariel consists of a beautiful backdrop with a shelf that stores all sorts of treasures that she and Prince Eric found. She also had people at the castle sculpt a replica of Sebastian for her since they cannot be together all the time. On one side of the shelf is an arrangement of tropical plants like birds of paradise and monstera deliciosa. The shelf sits on a black and white checked flooring with a mixture of sand on top of it. Ariel also carries a basket with her most prized treasures in it, like her precious dinglehopper!
Ariel was super sweet and loves to chat now that she got her voice back! I brought my own dinglehopper from home and she showed me hers too! So we got a fun photo of us with dinglehoppers twirling in our hair. I really enjoyed meeting live-action Ariel and I hope you get the opportunity to meet her too.
It would not be a complete "Under the Sea" day until I rode on "The Little Mermaid: Ariel's Undersea Adventure" ride over at Disney California Adventure. The 5-minute wait for the ride made it even more awesome. After having such an amazing day, I just enjoyed this ride and took notice of details that I did not pay attention to before and just soaked it all in. It is always nice to see the vibrant colors of all the sea creatures on this ride and be reminded of the lovely music from the movie.
After leaving Disney California Adventure for the day, I walked by The Little Mermaid sand sculpture that I saw two weeks ago to admire the artistic work. It was quite an amazing and relaxing day and I am looking forward to many more in the future.