Bon Voyage and Tokyo DisneySea Photos from 2013 (from Daynah)
I had the opportunity to visit Bon Voyage (the large Disney Store at the Tokyo Disneyland Resort) and Tokyo DisneySea back in 2013. It was an amazing adventure that I will always treasure. I never got around to uploading some of the photos I took, so here are some throwback photos of the Year of Happiness celebration from May 2013.
Before heading to Tokyo DisneySea, my family and I spent a lot of time at Bon Voyage because they was so much merchandise that you would not find in the US. The Year of Happiness celebration was everywhere and they had lots of boxes of various snacks and rice crackers in an assortment of Disney characters. Here are a few:
We finally left Bon Voyage and started to head towards DisneySea. Before getting there, you walk under this beautiful "Dreams and Magic" sign. I love the passport image. Great photo op!
To get to Tokyo DisneySea, we took the Monorail. We purchased our tickets for the monorail at this wall. On the other side was this beautiful display to celebrate the 30 Years of Happiness. Once we got on the monorail, everything had Mickey on it. I love the Mickey ear handles.
My family and I made it safely to DisneySea and purchased our park tickets. The tickets were 6,200 yen each, which was equivalent to approx $60 USD at the time.

I gave my daughter a map and she was telling us where to go. At the time, she was one and a half year old and already a world traveler.

When we entered the DisneySea, the first characters we saw were Chip and Dale!

We walked around the American Waterfront and stopped by Toy Story Mania.

They had a mochi cart nearby and we had to try out the delicious mochi (a sort of rice cake). Each one was a different flavor. We had mango, strawberry, and chocolate.

For lunch, we stopped by Restaurant Sakura at the American Waterfront. The food was delicious. Can you believe this was a kid's meal? It is so healthy and I love the Mickey Ears in the dessert and carrot!

My favorite part of the DisneySea park was the Mermaid Lagoon. I felt like I was under the sea with King Triton and Ariel. I love all the beautiful colors of the coral and there is so much things for the little ones to do here. If you're traveling with a toddler, I highly suggest you stop by this area in the park.
We walked around and enjoy the beautiful coral. We also went into the underwater kingdom and it was like a whole new world down there. There are plenty of rides and also rest spots for the toddlers. There are soft areas for them to run around and they can also play with dancing water in Ariel's Playground.
My favorite part was the Little Mermaid show. It was about a 15 minute musical performance, in Japanese of course!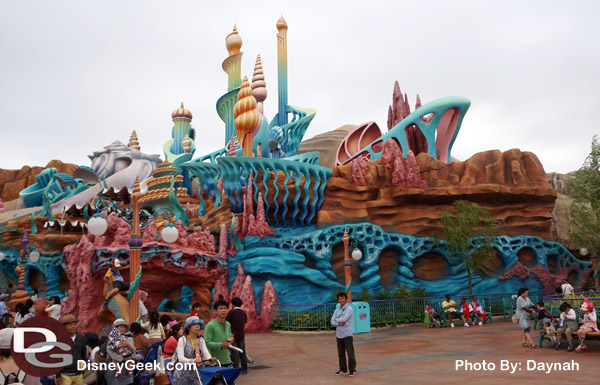 We also took a trip on Sindbad's Storybook Voyage. It's located in the Arabian Coast and the ride is very similar to "It's a Small World" at Disneyland.
At the end of the night, we watched the Fantasmic! show on the bridge. I love the colors and all the excitement. There was so much going on in the show.. volcanos were erupting, dragons were appearing, and fireworks everywhere.
And at the end of the night, we stopped by a Disney shop before leaving. The store was filled with Duffy and Shellie May bears everywhere!

Overall, we had a wonderful day. It was quite an experience to bring a 1 and a half year old across the world and have her spend the day at DisneySea. She was quite a trooper and was awake for most of the day. We were quite thankful that DisneySea allowed us to rent a stroller for the day because we did not bring ours.
I hope you enjoyed the photos! Jason will be heading to DisneySea next month, so be on the lookout for even more photos from Tokyo, Japan.
About the Author:
Daynah is a mother of one who's passionate about technology and the web. She enjoys blogging about motherhood and crafty Disney projects, as well as browsing Pinterest. You can find her at latest crafts at Scrapp'n and join her motherhood journey at CoderBaby.com. You can also follow her on Twitter.