LAVA Press Conference (Teri's Take)
LAVA DISNEY•PIXAR
I was able to attend an inside look to the Pixar short LAVA.  This Pixar Animation Studios short will proceed "Inside Out" opening in Theaters everywhere on June 19, 2015.  The short was directed by James Ford Murphy and produced by Andrea Warren.
Disney/Pixar described the short as "Inspired by the isolated beauty of tropical islands and the explosive allure of ocean volcanoes, "LAVA" is a musical love story that takes place over millions of years."
I was excited to hear from the creators and process behind making this heartwarming Pixar short.
The idea for this short came from James Ford Murphy after one of his vacations to Hawaii. During one of his trips he learned about the life of Volcanoes, shown below and then again later on how the initial volcano character came to life.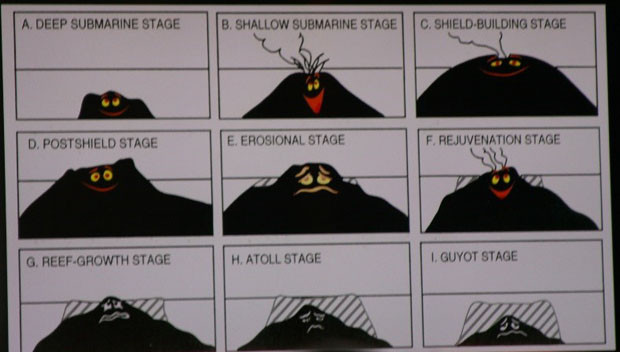 James Ford Murphy took the island traditions to heart and purchased a ukulele. Inspired by Israel Kamakawiwo'ole's rendition of " Somewhere Over the Rainbow", James learned how to play and even wrote the lyrics to the love song that the volcano "Uku" is singing in the movie:
" I have a dream, I hope will come true. You're here with me and I'm here with you. I wish that the earth, sea, the sky up above, will send me someone to lava."
James Ford Murphy and producer Andrea Warren went to great lengths to ensure that this production had an island feel to it by finding the perfect singers for the animation short. They did this by traveling to Hawaii to visit a homegrown music festival that featured local singers, and there they found the two perfect Hawaiians that would be the voices of UKU (voice by Kuana Torres Kahele) and LELE (voice by Napua Greig).
---
Teri's Take:  This animated short already has "Oscar" talk buzzing around it and was the perfect accompaniment to "Inside Out" It is heartwarming and makes you want to take off to the islands of Hawaii.
---
Related Links on the Geek's Blog: