Japan Uniqlo – Disney Project (@Daynah Discoveries)
Editor's Note: Daynah is traveling with her family in Japan for a couple of weeks and has sent in some Disney discoveries she has encountered.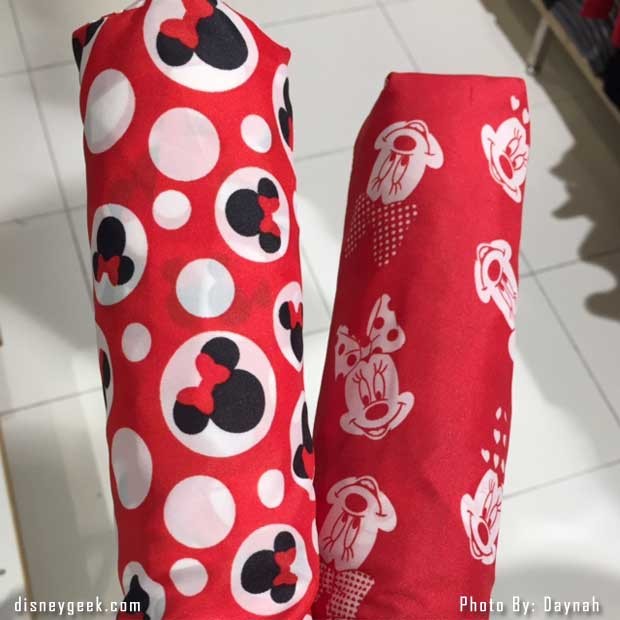 During D23 Expo, I was able to see some samples of Uniqlo's new Disney Project – Magic For All line of products. I'm happy to see some in the actual stores now!
I stopped by a Uniqlo store near the Osaka Train Station. It's located on the 7th floor and had a huge selection of clothes. Winter is around the corner so there were a lot of down jackets and sweaters on sale.
Among the items, I spotted a few Disney ones.
Here are room slippers with Mickey's name and face on them. They are selling for 990 yen which is approximately $8.00 U.S. dollars.
These umbrellas are adorable! I had to pick up the Minnie one on the far left. They were going for 1550 yen, which is about $12.40.
They also had collectible Mickey dolls for 1990 yen.
The blankets were really beautiful! They are so soft and warm. The Olaf one had buttons on it so you can "wear" it if you want! I checked the Minnie and Mickey ones but didn't see any buttons on them.
Here are some Disney hoodies for 1490 yen which is almost $12.00.
More slippers, which are popular in Japan.
I believe this says you get magic Disney tape with purchase, but I'm not certain.
Some of these Disney Project items should be available in your local Uniqlo too.
About the Author:

Daynah is a mother of one who's passionate about technology and the web. She enjoys blogging about motherhood and crafty Disney projects, as well as browsing Pinterest. You can find her at latest crafts at Scrapp'n and join her motherhood journey at CoderBaby.com. You can also follow her on Twitter.