Review: Hocus Pocus 2 – Sanderson Sisters Run Amok, Again!
Unlike many of you, I was late to the Halloween party known as "Hocus Pocus."
I did not see the original Walt Disney Pictures film, which debuted in 1993 to largely lukewarm reviews, but eventually grew to become a cult classic, until a few years ago. Once I viewed the movie in its entirety, however, I quickly got on board the Sanderson Sisters fan train, thoroughly enjoying Kathy Najimy, Sarah Jessica Parker and the Divine Miss M herself, Bette Midler, as the trio of comically evil sister-witches.  So I was more than eager to catch the long-awaited sequel, "Hocus Pocus 2," which reunites the three original stars and debuts exclusively on Disney+ this Friday, September 30.
To say that the new film was worth the 29-year wait avid fans have endured is an understatement. In fact, if I wasn't afraid of someone casting a spell on me, I'd venture to say that it is not just as good as the original, but perhaps an eye of newt's worth better!
The new film sets the stage by giving us something the first movie was lacking — a Sanderson Sisters origin story. We already knew that sisters Winnie, Mary and Sarah were trouble from the first film, but what we didn't know was that they got their start as aspiring witches in strait-laced 17th century Salem, Massachusetts.
We meet them — or re-meet them, I guess — on the 16th birthday of Winnie (Midler), the eldest sister. Turns out this is a significant day in the life of a young witch — it's when she comes into her powers. Who knew? The imperious Hannah Waddingham (you might recognize her from Apple TV's "Ted Lasso") starts the ball rolling in a fun cameo as the older witch who sets the Sandersons on their crooked path. From then, the sisters continue to ruffle the feathers of the wrong people at the wrong point of history. Let's call it a personality conflict.
The clock then jumps ahead to 29 years after the events of the first "Hocus Pocus" movie. We encounter three high-school students, Izzy, Becca and Cassie, who are tricked into inadvertently summoning the spooky Sandersons back from the beyond on Halloween. And, it's probably not a spoiler to tell you this much: this time around the Sanderson Sisters are as hungry for revenge as they are for little children.
The film is filled with fun little call-backs to the original movie, clearly meant to delight those who have watched and rewatched it. Midler's Winnie is still the devious ring-leader, planning her revenge and sporting her signature protruding front teeth. As Mary, Najimy is ever hungry for a snack of a small child, with flirty winks and snide asides, and Parker is once more the ditzy Sarah, just as likely to blurt out a secret as cast an evil spell. From the current town magic shop, which was formerly the sisters' cottage, to the one-eyed, quasi-human book of magic spells, to the whimsical modes of transportation the Sandersons settle on, it all feels deliciously familiar and yet fresh and updated at the same time.
Along with the return of the original Sanderson Sisters, the film also resurrects (literally) the character of Billy Butcherson, Winnie's old unrequited love. Played once again by the quirky Doug Jones, the character endears himself to viewers as a zombie who really just wants to be left alone to his eternal rest.
In addition to Waddingham, there are some other pleasant surprises in the cast, notably Tony Hale ("Veep", "Arrested Development" and of course, the voice of Forky in "Toy Story 4"!) doing double duty as Salem's current mayor and as a religious leader in the old Salem flashback. There's also the charming Sam Richardson (another veteran of both "Veep" and "Ted Lasso") as Gilbert, the magic shop proprietor, who is the surprising catalyst for the current story.
The new trio of young witches — Whitney Peak as Becca, Belissa Escobedo as Izzy, and Lilia Buckingham as Cassie — hold their own alongside the veteran "Hocus Pocus" sisters, both as their characters on screen and as actors in their own right. Their genuine friendship and the fondness they demonstrate for each other make the whole story, and especially its conclusion, both believable and heart-warming.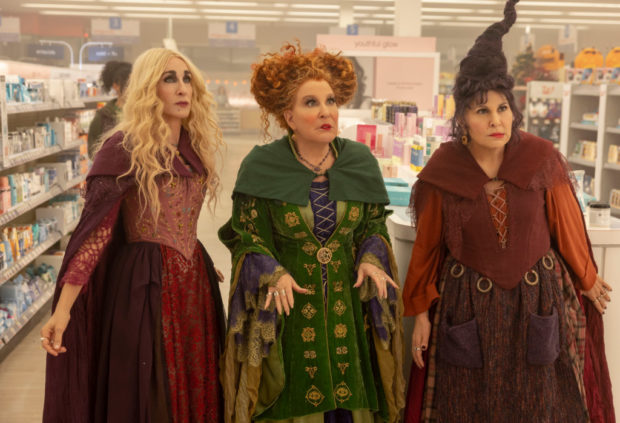 But just because I used the word "heart-warming," don't go thinking that the Sanderson Sisters have gone soft! As directed by Anne Fletcher ("The Proposal"), "Hocus Pocus 2" also has plenty of suspense and thrills, accented by a fair amount of dark humor, perfectly suitable for this Halloween story. And importantly, Fletcher didn't forget to also include a few fantastic musical numbers, just like the first film. I won't spoil anything here, but let's just say that this '80's-music-loving heart was overjoyed at several of the song choices and the accompanying dance scenes. And how great was it to see and hear Bette Midler singing again?
The screenplay for "Hocus Pocus 2" was by Jen D'Angelo, based on a story by David Kirschner (who worked on the original "Hocus Pocus") & Blake Harris and Jen D'Angelo, and it's clear it was crafted with a lot of love and respect for the first film. Although I had read some concerns on social media that more of the original cast was not included in this new movie, I found myself not minding that at all.
Honestly, even if you never saw "Hocus Pocus," you will thoroughly enjoy the Halloween hijinks of "Hocus Pocus 2" and will make plans to add it to your annual All Hallow's Eve viewing. And if you were a fan of the first movie, you will not be disappointed by this sequel, which stays true to its characters and captures all the quirky fun and mildly menacing frivolity of its predecessor.
Could we ever see "Hocus Pocus 3"? Well, the final credits do reveal there is still another Black Flame Candle tucked away in storage, so…
A Disney+ Original movie, "Hocus Pocus 2" will premiere September 30, 2022, exclusively on Disney+.
Take a peek at the official trailer: