Five Fun Things You Might Not Know about "Hocus Pocus 2"
The long-awaited sequel to Disney's Halloween cult classic, "Hocus Pocus," is finally out! "Hocus Pocus 2," starring the original trio of Sanderson Sisters — Bette Midler, Sarah Jessica Parker, and Kathy Najimy — debuted exclusively on Disney+ on Friday, September 30, ready to join its precursor  as an All Hallow's Eve viewing tradition.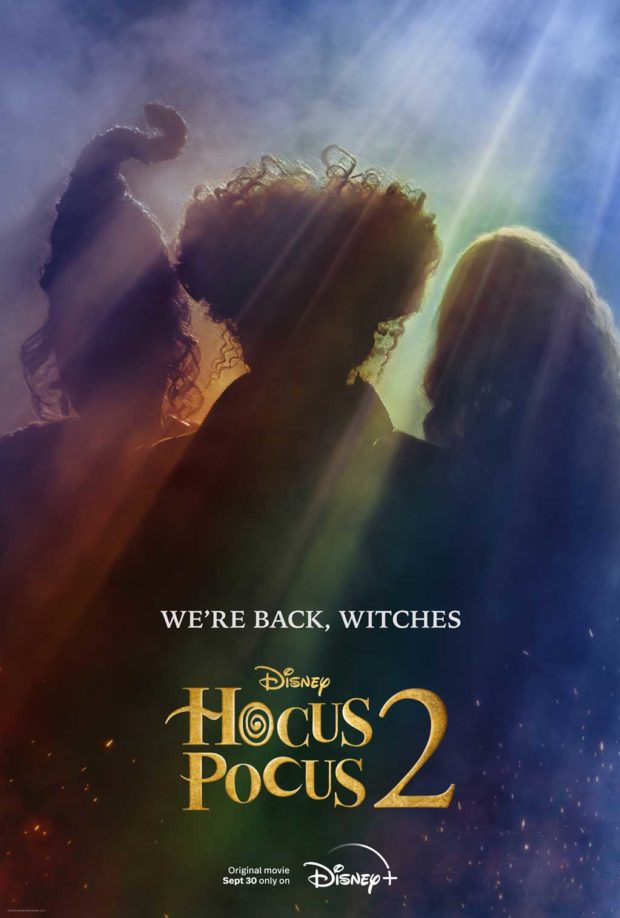 At a recent press conference, some of the cast and others behind the scenes revealed some fun facts about the new film that you may not know:
#1: The original Sanderson Sisters costumes were not used in "Hocus Pocus 2" because basically, "they do not exist," said director Anne Fletcher.
After 29 years, the original outfits worn by Winnie, Mary and Sarah Sanderson had deteriorated to the point where costumers had to "start from scratch," while making sure they stayed true to the characters of the witches. They also wanted the outfits to be somewhat updated and fresh in appearance.
"They used symbols associated with modern-day witches (Wiccans), symbols for the elements like the Earth, ocean, stars," Fletcher explained. "You also see them on the girls' necklaces and in Winifred's cloak."
"I think they [the original costumes] are in a museum in Seattle now," Bette Midler, who plays Winifred Sanderson, added. (We weren't able to verify that, but we do know the costumes have appeared at several events around the country hosted by the Disney Archives over the years.)
#2:  Speaking of the costumes, the color schemes of the Sanderson Sisters outfits are echoed in the wardrobe worn by the new film's young trio of witches, Fletcher also pointed out.
Becca, who is clearly the leader of the new "coven," wears muted greens similar to those worn by head Sanderson, Winifred. Izzy's outfit conjures up the same feeling as Mary Sanderson's, with rich and deep colors like burgundy and brown. And finally Cassie's clothing consist of lighter, brighter shades, the same color pallet found in the dress of the youngest Sanderson, Sarah.
#3: Belissa Escobedo, who portrays the loyal and resourceful Izzy in "Hocus Pocus 2," is no stranger to serving up scares, having acted in Ryan Murphy's television series, "American Horror Stories."
"It's true," the young actress confirmed. "And I have always loved spooky Halloween movies! They are usually two extremes, horror and camp. And they sort of bridge those two things, and bring them together."
#4: Making the film was a bit like "old home week" for several of the actors, who had worked together previously on various projects.
Tony Hale, who plays Mayor Traske and Cassie's dad in the new movie, is well-known for his stint as purse-carrying assistant to Julia Louis-Dreyfus on the sitcom "Veep." Kathy Najimy (Mary Sanderson) and Sam Richardson, who plays magic shop owner Gilbert in "HP2" also spent time acting in the long-running HBO show.
"Yeah, it was definitely kind of a 'Veep' reunion," Richardson said.
Richardson has also shared the screen with Hannah Waddingham, who makes a brief but significant appearance as an old witch who nudges the young Sanderson Sisters toward a life of spells and magic. Both actors have appeared in recent years in the award-winning Apple+ TV series "Ted Lasso".
#5: Richardson, whose character Gilbert serves as a catalyst for the events of the new film, thinks he was destined to be in a "Hocus Pocus" movie.
As a youngster in Detroit, Richardson said he saw the original "Hocus Pocus" in 1993 in a theater and has been more than a casual fan ever since.
"I have always been a huge fan of Halloween," Richardson said. "And my reaction when I saw 'Hocus Pocus' was, 'I'm going to be in that!' To get to be in this movie as a fan of the movie, and then see myself in the movie… it is just indescribable. My whole career was just to get to be in 'Hocus Pocus.'"
Here's a taste of "Hocus Pocus 2", now streaming exclusively on Disney+.