"Avatar: The Way of Water" – Press Conference
In theaters Friday is "Avatar: The Way of Water," the long awaited sequel to 2009's "Avatar." The cast and creative team gathered to discuss the film prior to its release. Part of the discussion was director James Cameron, producer John Landau, and stars Zoe Saldaña (Neytiri), Sam Worthington (Jake Sully), Sigourney Weaver (Kiri), Kate Winslet (Ronal) and Stephen Lang (Colonel Miles Quaritch).
On the expectations of creating a sequel to a record breaking film:
Cameron: I think it's important for a sequel to honor what the audience loved about the experience the first time. But also to, you know, get them off-balance, you know, do things that they don't expect. There are a lot of surprises in terms of where the story goes in this film, that we're not putting into the trailers and the TV spots and all that. You kind of have to experience it. But it also goes a lot deeper, in terms of the heart and the emotions … it was a much simpler stories, and the characters were simpler the first time. And I was inspired by the fact that both Zoe and Sam are parents, and I'm a parent of five, and so we wanted to get into the family dynamics, and the responsibilities of having kids. And also what that's all like from the kid's perspective right?
Landau: Well the excitement are the themes that Jim writes into his stories. You know, themes are what you leave the theatre with, and this movie has heart, has emotion, and it also has, you know, a message again about our world, not just the environment, about people, about accepting people for their differences. In the movie Jim wrote in the line, [Speaks Na'vi], 'I see you.' And we want people to know that they're seen, and that to see others that same way.
On returning to characters after great life changes: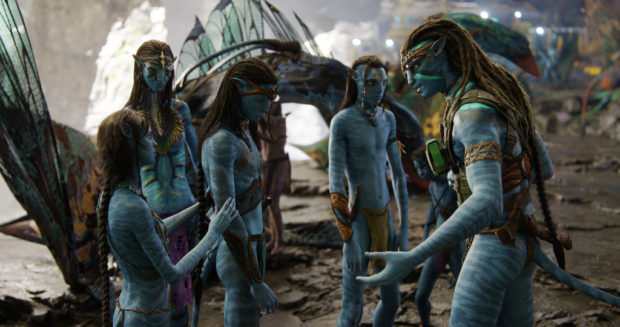 Saldaña: Neytiri and I, in a way, we've lived parallel lives. There is, there's a level of fearlessness and rebellion that I have, as I guess as a person, that Neytiri had as herself. And I, we were able to sort of find kindred in that. You know, but the leap of falling in love with something outside of you, that challenges you to see something that you've never seen before, that has always been her dilemma. To surrender to that, and then to bring forward, you know, fruits of that love, and that presents the challenge for her. Because forcing her to grow, it's forcing her to love something that she's been taught to hate. And it's, you know, it's hard, it's really, really hard.
Lang: Oh it was very exciting to come back and it was, I was just so honored to be able to deepen and expand on the vision that Jim had for this character. I think in the first film he's very, very colorful, he's got personality, he's got some great qualities. But essentially he moves through like a mindless shark, in a way. But in this iteration of it, first of all there's the absolute magnificent irony that Jim has written of coming back as the very thing he has been trying to destroy. And having to make the adjustment to that, to adapt to that. And I think it's just, it's been a… it was a total pleasure for me to continue to massage this character, and find the depth, and maybe some of the humanity that's in him.
On acting and inhabiting through motion capture and CGI characters:
Winslet: You know, it's one thing for Jim to write it, it's quite another to find it, and to give it a life and a pulse and real blood in those veins. And but it's really, really extraordinary to be around that. It's not a performance. It's not things they came up with on the day. It is a universe. It is a love, it is something that is palpable, and you feel it, you step into that space, it's an empty space, but it is absolutely loaded with truths and dynamics and pulses that these guys built. They built that, and they shared it, and it's honestly very, very special to have been part of it.
Weaver: I loved that I had the opportunity to play someone I consider a real adolescent in most ways, and then she has these other bright spots that she's learning about. But I was very honored, too, and thrilled, excited, terrified. But luckily there was a long time to prepare, and I went to high school classes and a few other things, so I could hear the pitch of their voices, and there's a big range of who an adolescent is between twelve and fifteen. And once I saw that, I was like, okay, I can let Kiri come out. Whoever that is, combined with who I was at fourteen.
"Avatar: The Way of Water" premieres in theaters on December 16.