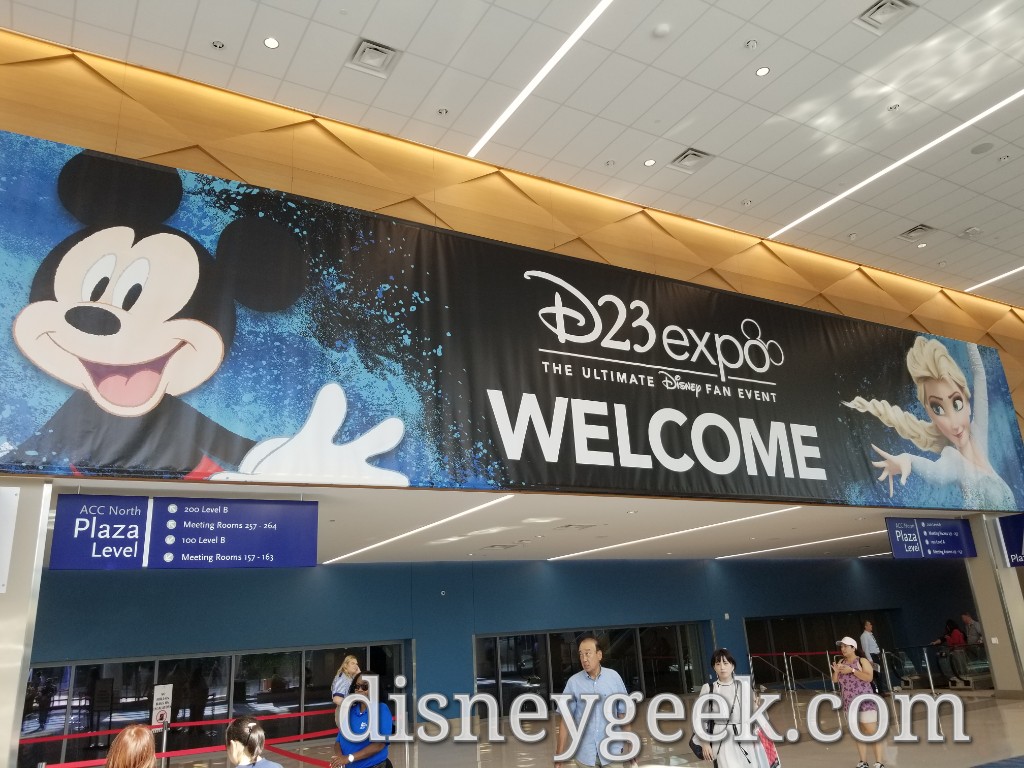 The 2019 D23 Expo will be in Anaheim from August 23-25 at the Anaheim Convention Center. This page is a summary of my posts from the Expo.
My D23 Expo 2019 Stats:
10 Panels/Presentations Attended + Preview
36 Hours at the Anaheim Convention Center
 17.9 Miles Walked during the extended weekend
1,032 -SLR Camera Pictures
1,843 – Cell Phone Pictures
47 video clips totally about 102 minutes
---
Thursday – August 22, 2019 – Media Preview
Friday – August 23, 2019 – Day 1
Saturday – August 24, 2019 – Day 2
News Releases from Day 3:
Sunday – August 25, 2019 – Day 3
News Releases from Day 3:
---
Videos From the D23 Expo 2019
---
Streaming Information:
Go to D23Expo.com/live to watch, and D23 will also stream through its Twitter and YouTube channels. There will be a D23 Expo Live! pre-show before every presentation tune in early –
Friday, August 23

10:30am – 12:00 pm PT: 2019 Disney Legends Ceremony
4:00pm – 5:00 pm PT: Behind the Art of Disney Costuming

Saturday, August 24

10:00am – 11:00am PT: Women of Impact: Meet the Nat Geo Explorers Changing the World
5:30pm – 6:30pm PT: Marvel Comics: Marvel's 80th Anniversary

Sunday, August 25

10:00am – 11:00am PT: Heroines of the Disney Galaxies Presented by BoxLunch
3:00pm – 4:00pm PT: The Art of Disney Storytelling
---
Fun Facts:
This event marks the sixth D23 Expo. Previous events took place in 2009, 2011, 2013, 2015 and 2017.
Guests are arriving from all 50 states and 47 countries.
Overall, D23 Expo 2019 takes up over 1,000,000 square feet of the Anaheim Convention Center, including exhibit halls, stage venues, back of house operations, and queue space.
There are three main venues for presentations: Hall D23 (6,800 seats), D23 Expo Arena (3,600 seats), and Stage 28 (1,600 seats).
More than 215 presentations, panels, concerts, demonstrations, meet-and-greets, and sneak peeks will take place during the Expo.
Including this year's honorees, there are 290 Disney Legends. The first Disney Legend inducted was Fred MacMurray in 1987.
More than 1,100 products will make their debut at the D23 Expo in the Disney DreamStore, Disney store, Mickey's of Glendale, Disney Studio Store Hollywood, and the Walt Disney Music Emporium.
There are 56 vendors in the D23 Expo Emporium from fine art dealers and toy makers to travel agencies and Disney fan sites.
More than 70 stars from Walt Disney Television will be making appearances at D23 Expo 2019, including stars from black-ish, Dancing with the Stars, grown-ish, The Simpsons, DuckTales, mixed-ish, ZOMBIES, and Raven's Home.
The highly-anticipated Disney+ Showcase will include never-before-seen content, surprise guests, performances, and reveals, including a first look at Lady and the Tramp, The Mandalorian, High School Musical: The Musical: The Series, and many more. And, on the show floor, the Disney+ pavilion will offer guests demonstrations of the live Disney+ app as experienced across mobile and connected TV devices.
From the classic Mary Poppins to this year's live-action retelling of Aladdin, more than 70 costumes from 55 years of Disney movies and television shows will be on display in Walt Disney Archives Presents––Heroes and Villains: The Art of the Disney Costume. The 12,000-square-foot exhibit will be broken into three sections: "Disney Heroes," "Disney Villains," and "Spaces Between," reserved for the anitheroes whose fascinating journeys make them among Disney's most complex characters.
Disney Parks and Resorts will provide a unique look at the exciting developments underway at Disney parks around the world at their "Imagining Tomorrow, Today" pavilion. Get a close-up look at the historic transformation planned for Epcot at Walt Disney World, as well as the inside scoop on Tony Stark's latest plans to recruit guests to join alongside the Avengers in fully immersive areas filled with action and adventure in Hong Kong, Paris, and California.
---
Quick News:
8/14/19 – The D23 Expo 2019 is now completely sold out. They will be announcing some live streams before the Expo starts.
8/7/19 – Multi Day and Single Day Tickets for Friday & Saturday are sold out. Only single-day tickets for Sunday are still available
8/7/19 – The D23 Expo App has been updated for the 2019 Expo and released. The D23 Expo 2019 Official Mobile App will help guests navigate all the entertainment, presentations, shopping, photo opportunities, and magic that Disney has in store.

Use maps to navigate your way through D23 Expo 2019 and find everything you need – from stages and stores to photo spots and more.
See the full schedule of presentations and entertainment.
Personalize a schedule that keeps you on track to see and do everything you're dreaming about, find out about sessions and where they take place, and learn about special guests.
Locate exclusive D23 Expo and Disney products.
The app is free and available in the App Store and Google Play stores.
NOTE: For those who have the D23 Expo app already installed from 2017, it's a quick update (if it doesn't update automatically): Go to the App Store, click on "updates" and the D23 Expo 2019 app should be in your queue.

8/2/19 – D23 Expo, Gold Members will receive a slew of incredible benefits including…

Access to Gold Member Lounge, which will include a D23 Expo penny press, charging stations, and games (with prizes!)
A collectible print by Disney artist Eric Tan which celebrates 10 years of D23
Discounts with exhibitors including American Tourister, H2O+, Raw Threads, and Steiff
For Charter Members we will again have an exclusive D23 Charter Member Lounge
Click here for the complete list of D23 Expo Gold Member Benefits.
---
Disney D23 Expo Tips:
This will be my sixth D23 Expo. Each time the event unfolds slightly differently but here are some take away tips from the previous ones that may help you with this years if you are planning to attend.
Do NOT plan on seeing everything. There is just too much and many presentations/sessions are scheduled with overlapping times. Identify your must sees and then your tolerance level for waiting to get in. Do not expect to just show up and walk into a presentation. Most are at capacity and have queues that involve sitting for hours. Have a backup plan for each too.
Bring patience and flexibility. Panels start late, run late, things happen, lines are longer than you thought, something of interest catches your eye and throws off your plans. Be prepared for the unexpected schedule wise
Take advantage of the StagePass & StorePass to save some time in line. This is a FastPass type system which will help you to know if you will have a spot and minimize your wait time for many of the sessions.
Be sure to leave time to explore the Floor. There are usually some great booths and exhibits throughout.
Remember to leave time to eat… the first Expo I made this mistake and it makes for a miserable experience. Be sure to each lunch and possibly even dinner to ensure you are in good shape for events
When in line visit with your fellow disneygeeks. You all have a similar interest since you are investing your time and money to visit and wait in line and it sure helps the time go faster
---
Disney Press Releases & Announcements (leading up to the Expo):
---
Related Links:
disneygeek.com Coverage of Previous D23 Expos
disneygeek.com D23 Section – Thoughts, observations, pictures and videos from previous D23 events including all the Expos, several Destination D, and more…