Review: Coco – The Official Cookbook
You probably do not want to hear this, but autumn is right around the corner! And with the change of the seasons come all the fall holidays, including Día de Los Muertos, the Mexican celebration of the "Day of the Dead."
Disney film fans know that the 2017 animated "Coco" took its cues from that holiday while young hero Miguel and his dog Dante explored the Land of the Dead.
Now, thanks to "Coco: The Official Cookbook" by Latinx chef and author Gino Garcia, you can recreate the flavors of Mexico and plan your own "Day of the Dead" celebrations.
This beautiful 128-page cookbook features more than 50 recipes inspired by the film, all authentically Mexican. Included among all the exotic dishes are all of the meals that the movie's Rivera family offers to their loved ones who have passed over to the other side.
Like most of publisher Insight Editions' recent Disney cookbook releases, "Coco: The Official Cookbook" features step-by-step instructions and full-color images appealing to chefs of any age or skill level.
Want to learn how to make a tamale? Take a look starting at page 44 — there are recipes for whipping up some fluffy masa, as well as several filling recipes from vegetarian to meat. There's even a recipe for "Tamales Dulces" — sweet dessert tamales, with chocolate and strawberry fillings.
Have you ever heard of "Elote Callejero"? This delicious street corn treat is as easy to make as Mexican dishes come. It takes just 20 minutes to put together and 10 minutes to cook and will leave you wondering why you had never tried it before.
Other super savory, and super easy, recipes include Frijoles de la Olla (Simple Pot Beans), Arroz Rojo (Mexican Red Rice), and Picadillo (Spiced Beef Hash).
If you're looking for something a little more challenging though, try the Albondigas al Chipotle (Meatballs in Tomato-Chipotle Sauce) — you won't regret it!
Or maybe you'd enjoy the spiced beef stew known as Birria de Res?
Both of the above-mentioned dishes are classified as "Medium" in difficulty, but the easy-to-follow instructions make them seem quite simple to prepare.
If you're looking for something on the sweet side, this cookbook has you covered. There are recipes for sweet beverages, such as Agua de Jamaica (Hibiscus Flower Water), Champurrado (Corn-thickened Mexican Hot Chocolate) and the delicious Horchata (Rice and Almond Milk with Cinnamon); for sweet breads, like Pan de Muerto and pink Cortadillo; and for sweet pastries, including the well-known classic Churros.
These recipes really do represent something for everyone, with a thoughtful ingredient guide for those who may be unfamiliar with Mexican cuisine and cooking. There are even planned menus for when you're ready to prepare your own feast or fiesta, as well as a page dedicated to dietary considerations.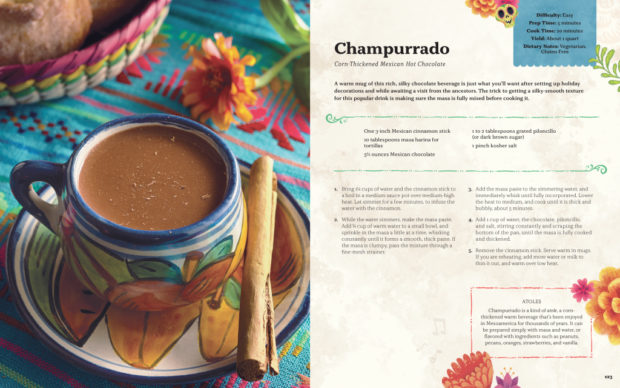 Author Garcia, who has Mexican roots and claims to have watched the film "Coco" countless times, works primarily with the regional cuisines and cultures of Mexico. In his introduction to the book, Garcia says he hopes that its recipes help the reader "create beautiful plates of food that are as multidimensional and meaningful as Miguel's journey." As you look, and hopefully cook, through this collection of dishes, you're sure to be similarly inspired.
"Coco: The Official Cookbook", by Gino Garcia is available is now available with a retail price of $27.99 wherever books are sold.
---
* This post contains affiliate links, as an Amazon Associate the site earns from qualifying purchases.
** A review copy of this product was provided to us