Review: Hocus Pocus – The Official Cookbook
Last fall, I reviewed the long-awaited sequel to Disney's "Hocus Pocus", "Hocus Pocus 2", featuring the beloved Sanderson Sisters, and many characters from the original cult classic. So I suppose it's only fitting that I should be the first to tell you all about the latest in Insight Edition's line of Disney-themed cookbooks, "Hocus Pocus – The Official Cookbook."
After perusing the 160 pages of this beautifully photographed cookbook, you too will be able to concoct creations like Circle of Salt Soft Pretzels, Witch's Broom Donuts, Shishkebaby and so much more.
You might even want to choose from the 70 recipes included to compose your own Hocus Pocus-themed All Hallows' Eve party menu. Start planning — after all, Halloween is only a little more than three months away!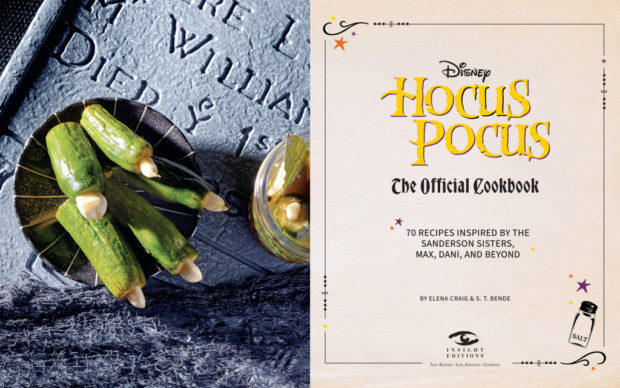 You could start with some refreshing beverages, with names that call back to the original 1993 "Hocus Pocus", like "I Put a Spell on You" Brew and Burning Rain of Death Drink.  Then add a few appetizers, like Billy Butcherson Zombie Fingers (pictured above) and "Amok Amok Amok" Guacamole and Homemade Chips.
Follow your spooky starters with a monstrous main course, such as Maggot-Stuffed Pork Chops or Full Moon Blue Cheese Onion Tart (photos below).
And don't forget a dastardly dessert. If you're feeling ambitious, you could create a chocolate cake facsimile of Winnie's Spell Book (see page 99). Or if you're looking for something simpler, there's Halloween Candy Ice Cream with Gummy Worm Ganache…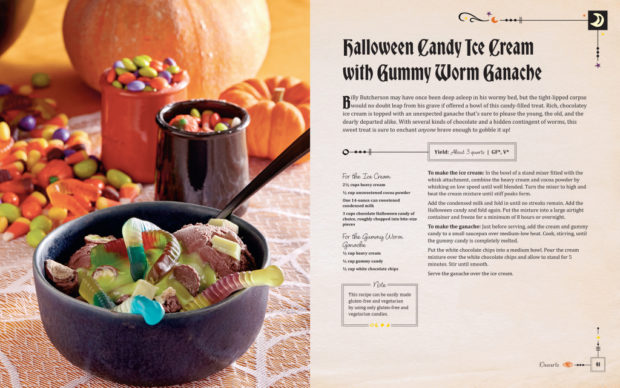 Or perhaps you'd prefer pretty Puffed Rice Potion Bottles?
No matter which creation you conjure, you're sure to have fun — these recipes have been specifically designed by authors Elena Craig and S.T. Bende to appeal to Hocus Pocus fans of all ages, and all culinary skill levels. The brief introductions for each recipe add a dash of Sanderson Sister humor, and connect cleverly to the movie's storyline. Clear and easily understood instructions turn simple recipes like Classic Caramel Apple Dip into a fun family project, while making more complicated dishes, like Green Mummy Roll Ups, seem less daunting and manageable.
The authors have also taken care to provide you with notes on special dietary considerations, going so far as to mark which recipes are gluten-free, vegetarian or vegan. They even give tips on how to adapt certain recipes to accommodate special diets.
Best of all, these recipes will have you cooking like a Sanderson in no time — without having to light a Black Flame Candle or summon any evil spirits. Unless, of course, you want to!
"Hocus Pocus: The Official Cookbook" is available now and retails for $29.99.
---
* This post contains affiliate links, as an Amazon Associate the site earns from qualifying purchases.
** A review copy of this product was provided to us