Mickey Mouse Clubhouse: Mickey's Monster Musical on DVD, Sept 8th (Daynah's 1st Impressions)
Halloween is just around the corner and Mickey and the Clubhouse pals have something special planned for you. Visit the castle of "Count Mickula" and help the Clubhouse pals solve a puzzle: who or what is making that banging noise? Solve this mystery with just the right Monster Mouseketool and brain power from you! This DVD is also packed with two more exciting adventures with the Clubhouse Pals and a short from Minnie's Bow-Toons.
Mickey Mouse Clubhouse: Mickey's Monster Musical DVD Episodes
Mickey's Monster Musical (45 minutes)
This full-length adventure starts out with a romantic picnic trip with Mickey and Minnie, but trouble comes when their car breaks down. But not to worry, they run into "Count Mickula" and stop by his castle for the night as their car is being fixed. This episode is full of songs and learning games for the viewers. In this episode, kids learn how to count, pick out colors, and use reasoning to solve problems. It also inspires them to think logically and outside the box.
This episode is not part of the tv series and is only available as a DVD. It is an enjoyable episode to watch with your kids, especially with Halloween coming up.
Mickey's Pirate Adventure – Season 4, Episode 13 (30 minutes)
The Clubhouse pals spent the day at the beach, until Pegleg Pete sailed to shore with a note from Goofy's long lost Grandpappy, Captain Goof-Beard. The group of friends help Goofy rescue his relative and help him find the lost treasure.
Mickey's Farm Fun Fair – Season 4, Episode 5 (30 minutes)
Mickey hosts a farm fun-fair. The Clubhouse pals introduce viewers to egg-and-spoon race, high striker, square-dancing, baking contest, veggie contest, and much more.
Chip and Dale, even though they are really small, really came out on top. Not only did they win the spoon-and-egg race, they also saved Donald from a giant peach! The big take away from this episode is no matter how big or small you are, you can make a big difference in someone's life.
Bonus – Minnie's Bow-Toons: Tricky Treats (3 minutes)
Minnie made some yummy sticky tricky treats, but when they fall on the floor, the girls — Minnie, Daisy, and Cuckoo Loca — think of tricks to give the visitors instead.
My daughter really liked this short episode because it is Minnie of course. The girls are all dressed up in different Halloween costumes so it does get you ready for the upcoming spooky holiday.
Free Bonus Gift
Within the DVD case is a free bonus Trick-or-Treat Mini Tote that is the perfect size for the little one's hands. It is made out of the same material that most reusable grocery totes are made up, and the front design has images of Mickey, Goofy, and Donald in their Halloween outfits.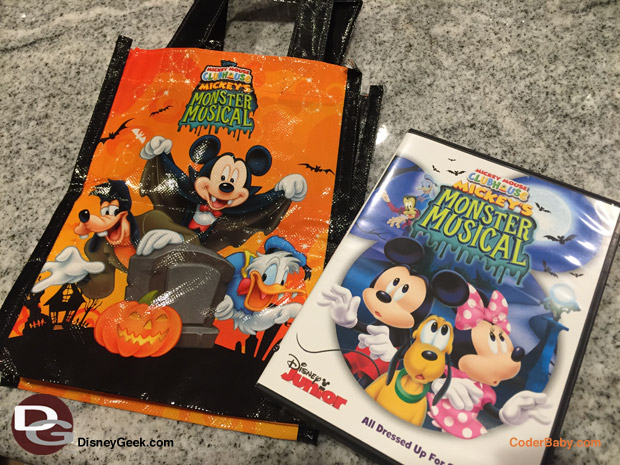 Daughter's Reaction
My almost-four-year-old daughter and I really enjoyed watching Mickey's Monster Musical together. The episode starts out with a nice musical opening about a picnic which she could not stop smiling about. But once Mickey's car approached a dark castle, she got really worried and scared. She kept second-guessing that something scary was going to pop up. I kept encouraging her to watch it and she was happy and relieved that nothing scary came about. Goofy did look like a monster, but he was his goofy-self which made her laugh.
In Mickey's Pirate Adventure, she liked seeing Goofy's relative and the musical instruments used on the island. She also enjoyed Mickey's Farm Fun Fair because of all the games and animals. When she saw Minnie's Bow-Toons: Tricky Treats she instantly loved it because Minnie Mouse and friends were all dressed up.
Overview
The Mickey Mouse Clubhouse series are good for children 2-5. From a parent's perspective, I like that the show is somewhat interactive. The characters would ask the viewers a question and pause so the children can answer. This gives them a sense of giving input to the show. The characters also explain why some things would work and why they would not. I like that the children are learning so much from the show.
This DVD is packed with 115 minutes of educational entertainment for the little ones. The children learn counting, colors, critical thinking, and process of elimination in the episodes. They also learn some important social skills like being kind to others. This DVD set is a good choice if you are looking for a special Halloween gift for a little one. I would highly recommend it.
---
---
Other Disney Junior DVD Reviews
Enjoy the DVD review? Here are some other Disney Junior DVD reviewed:
About the Author:
Daynah is a mother of one who's passionate about technology and the web. She enjoys blogging about motherhood and crafty Disney projects, as well as browsing Pinterest. You can find her at latest crafts at Scrapp'n and join her motherhood journey at CoderBaby.com. You can also follow her on Twitter.